Building a stylish and affordable carport is easy with our flexible design system.
Custom design your carport by choosing the specifications you want, from bay sizes and roof heights to colour finishes and cladding options. We can do it all!
Engineered for durability, our carports are made with galvanised SHS (Square Hollow Section) posts that are strong, safe, and sturdy.
Styles
You can choose from two great styles:
our popular R&F Skillion carport with a flat, slightly sloping roof
our stylish R&F Gable carport with its sleek design and full range of variable options.
Skillion Carport
Our Skillion carports are simple and economical structures, and our flexible design system allows for wider spans, up to 9 metres as standard, plus the option of a 1.5 metre overhang on all sides.
We also offer bay sizes up to 7.5 metres and roof heights to an impressive 4.5 metres, perfect for caravan or truck storage.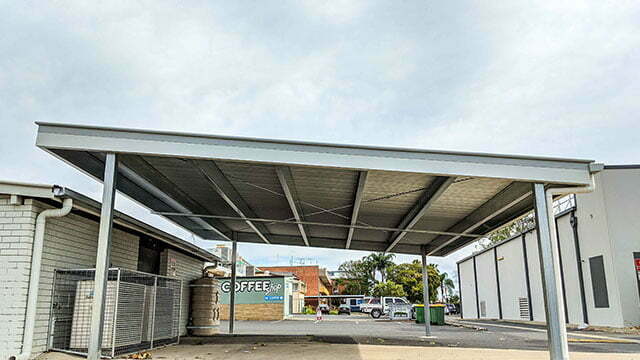 Gable Carport
Our Gable carports are a more stylish option. We offer a full range of roof pitches, colour finishes, and cladding options, so it's easy to compliment your home or workplace.
It will clear span up to 12 metres, accommodate eaves to all sides. Bay sizes up to 7 metres and reach heights of 4.5 metres to the top of the gutter.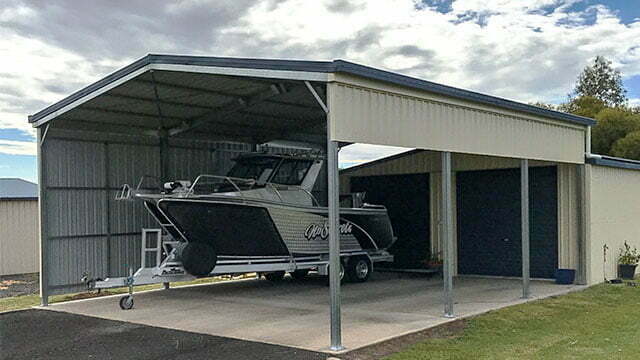 Design Options
Gable infills
Powder coated posts
Insulation
Screening
Partial side walls
Light panels
Eaves & overhangs
Bolt to slab or cast-in
Ideal for solar panels
Choose DIY or fully built
Click here for more information on designing your own carport.
Click here for design inspiration.